Apartments in Muncie near Ball State
Modern & Luxurious Living
Welcome to the Village Promenade, the modern and luxurious apartments in Muncie near Ball State. Ideally located in the Village, residents enjoy a live-work-play lifestyle.
Just minutes from Ball State and Ball Hospital, this upscale apartment allows medical professionals, students and staff the benefit of spending less time traveling and more time to enjoy a healthy dose of the good life.
With every convenience you'll need, these spacious apartments offer a healthy balance of fitness, fun, and upscale living. The Village Promenade includes everything you want!
SCHEDULE TOUR
Village Promenade Features
Modern Appliances, Designs and Furniture
The apartments come furnished with modern kitchens, baths, appliances, and HDTV. VP's interior decorator's hand selected the furniture, giving each home a fresh look.
The Village Promenade's remarkable list of on-site amenities is only equaled by the culture and entertainment that comes with living in the Village.
The best apartments in Muncie near Ball State? Village Promenade. Just take a closer look!
VILLAGE PROMENADE GALLERY
Best Ball State University Apartments
These days' everyone is talking about the Village. From shopping, dining, and entertainment venues, everyone loves visiting the Village. Now imagine your living in the University Village Muncie. The same values that make the Village the best apartments in Muncie near Ball State also make it the best place to live.
This neighborhood is safe, well-maintained, and ideally located near Ball Hospital and Ball State.
While the Village is Muncie's destination for cultural venues, shopping, and dining, the Village's top attraction is Brothers Bar & Grill. With Brother's conveniently located on the Village Promenade's first floor, meeting friends and family is just an elevator ride away.
APPLY NOW
The Village Promenade Muncie
Today's new generation of medical professionals, interns, students expect more and at Village Promenade, they get more!
It starts with the apartments. The floorplans include studio, one, two, three and four-bedroom plans. This luxury apartment also comes with modern amenities.
VP's spacious and well-lit apartments are furnished with fresh and modern kitchens, baths, appliances, and stylish furniture. Of course, the next generation expects future-ready technology. Your Village Promenade is wired to please. Each room features a 40" HDTV, cable, broadband internet, and security cameras throughout to keep you safe and sound.
SCHEDULE TOUR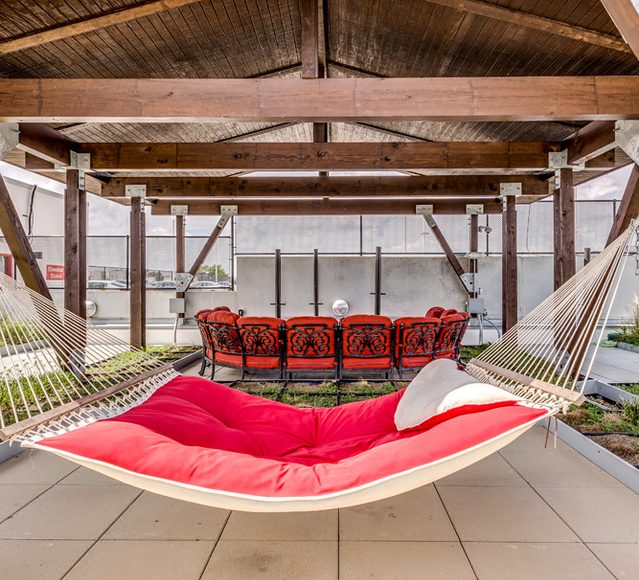 The best Ball State off campus housing
Amenities Through the Roof!
While spacious floor plans and modern technology might create a compelling reason for some to call VP the best Ball State off-campus housing, it's the 24/7 amenities that make this the best value in Muncie.
Village Promenade amenities through the roof. There are a rooftop amenities that include a dog park and rooftop tanning. You'll also love the balance of healthy living and healthy fun. Other favorites include a 24/7 Fitness Center, hot tub, and indoor pool.
You'll also love entertaining family and friends in VP's private clubhouse. From the hyper-cool bar, to VP's fun and entertaining lounge, your best memories come to life at VP!
Contact us to learn how you can experience Muncie's best choice for apartment living.